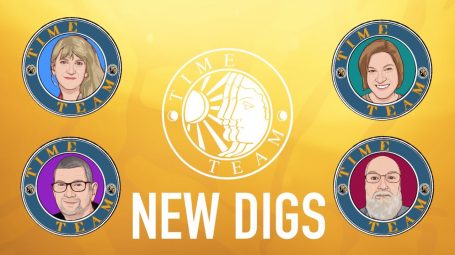 Who would've thought it, everyone's favourite archeological program of the 90s/00s has returned! Before you get your hopes up, OG presenter Tony Robinson isn't involved in the reboot that debuted on YouTube last month.
The iconic show was axed by Channel 4 in 2014 after 20 years on air, much to the dismay of the historical series' hardcore following. But now longstanding Time Team fans are behind the show's revival, with new episodes being funded by the viewers themselves through a successful fan-led Patreon campaign. Tiered membership is available via the subscription service, catering to different levels of the Time Team fandom. It starts at £5 a month, which gets you into the "Digger Crew" with 5% off the official shop, early viewing access and 'Meet the Crew' intros, all the way up to £100 a month for those major enthusiasts wanting to become a "Time Team Producer" – getting you a personal phone call with Tim and allowing you to suggest and choose dig sites and team members. (Anyone searching for a Father's Day gift…you're welcome!).
New and varied models of funding were hot topics at the TellyCast Content Funding Festival in London this week. As the commissioning landscape shifts, new opportunities (new streamers with libraries to fill) and new hurdles (the possible scrapping of the licence fee) present themselves to prodcos looking to get shows off the ground. The Patreon model getting Time Team back on screens is a great example of one of the simplest alternative routes to finance – crowdfunding. Fans of the show contribute to production and receive a benefit in return, whether it be discounts on merchandise, behind-the-scenes access or even a say in decision making.
In many ways, this Patreon method of crowdfunding is a simpler, non-digitised equivalent of the emerging NFT model. (Quick disclaimer – for any cryptocurrency experts reading this, I apologise for any misuse of terminology dumbing down of a very complex topic.) As mentioned in Clare Thompson's round-up of the TellyCast CFF event in April's newsletter, NFTs' impact on the TV ecosystem is already underway. For those of us not super savvy when it comes to the world of non-fungible tokens and blockchain, the Patreon model of funding allows for some understanding of how the NFT model of finance could work on a much grander, digital scale. Viewers or fans of a project could pay for (with cryptocurrency or other) and own an NFT – a contractual asset that grants them some kind of benefit, exclusive access or even in MContent's case, own a share of the show's IP (cue producers and distributors gasping in horror). Just like regular crowdfunding, a transaction takes place but rather than obtaining a simple VIP membership, viewers also own a digital asset that they can trade, track in value and potentially sell on for profit. There's obviously much nuance to be found here, but in essence that's just some of the opportunity presented by embracing NFTs in television.
Where Time Team is concerned, the show is an established brand with an established fanbase more than willing to contribute to its return. For new projects, crowdfunding (in all its forms) as a method of financing production presents a new set of challenges. While NFTs have proven well-suited to brands like the NBA, adapting this new-age finance model to new IP has to take a different route to first drum-up an audience – Ashton Kutcher and Mila Kunis' Stoner Cats being a prime example. Employing their A-list status to bring their NFT venture to the world's attention, the celeb couple encouraged potential viewers to buy NFTs of cartoon cats, enabling them to then watch said cats in the Kutcher/Kunis-starring adult animated series. According to creators, the direct-to-NFT model enables viewers to "engage directly with the content they want to watch and be a part of the content creation process." 
But as Harbottle & Lewis' dispute resolution lawyer Lizzie Williams (specialist in innovative technologies) emphasised at TCFF, the pitfalls of NFT licensing are innumerous (as Quentin Tarantino can testify) not least in the context of a rapidly evolving cryptocurrency ecosystem as governments scramble to legislate new technology. For the moment, it seems there's some way to go before more traditional television can enter into the NFT and blockchain community with any confidence.
As a total newbie to this brave new blockchain world, a once total skeptic remains a little skeptical, but with a better understanding of how NFTs present an alternate model of production finance and viewer interaction. It might be a leap from Time Team's Patreon financial model to that of NFTs, but it perhaps represents the potential shift from one traditional crowdfunding fossil, to a future digital era of decentralisation whereby the viewer can individually invest in, and in turn earn through, the content they want to watch, Time Team included – an NFT Iron Age coin anyone?